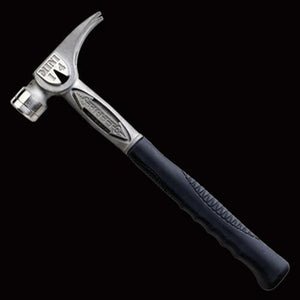 Our smaller, lighter "Ti-Bone" all Titanium Framer with a Smooth replaceable Steel face and a Straight style grip. Incredibly strong, powerful and lightweight - with 10 times less shock than Steel!  
Features:
- 14oz Titanium head/Steel face combination drives like a 24oz Steel hammer
- Durable Steel Replaceable SMOOTH Face
- 15 1/4" Super-Strong Titanium handle with an ergonomically contoured, hardwearing STRAIGHT black rubber grip
- NEW! Patented Side Nail Puller eases 16p nails out with one 180 degree motion with less effort!
- Stiletto's signature Magnetic Nail Starter